Looking to root android but do not want to pore over those complicated instructions?
To any android developer, user or fan, getting Android device rooted is always the first step to go. Once rooted, we will be able to get the most of Android device including –
Removing bloatware or pre-installed apps
Customizing the appearance by changing fonts
or Installing custom ROMs,
Making it faster than before and many more…
Many tools are available to help you root Android device, but few of them are actually easy and fast. So we have selected top 3 PC based apps to help you in rooting your android device –
[label type="label-success"]
1
[/label]   Kingo Root
Kingo Root is the best android rooting app out there. We specially recoment you to try out KingoRoot firstly.Why Kingo One-click Root is one of the best app out there?
Kingo One-click Root is free for life
Kingo One-click Root achieves the Minimalism of user operations
Kingo One-click Root is well-tested and proved universal Android root software
Kingo One-click Root works with as many Android devices as possible
TunesGo is simply the best Android Root tool in the industry with everything just simplified. All you need to do is to connect your Android, find the "Android Root" button and click it.
The advanced Android Root Module recognize and analyse your Android device and choose the appropriate Android-root-plan for it automatically. You don`t need to worry about data loss or other issues. Make yourself a cup of coffee and watch the power of your Android getting unleashed – a few minutes will do!
Connect your device to computer.
Find "One-click Android Root" in Toolbox and click it to root your device.
Android device is successfully rooted!
[label type="label-success"]
3
[/label]   iRoot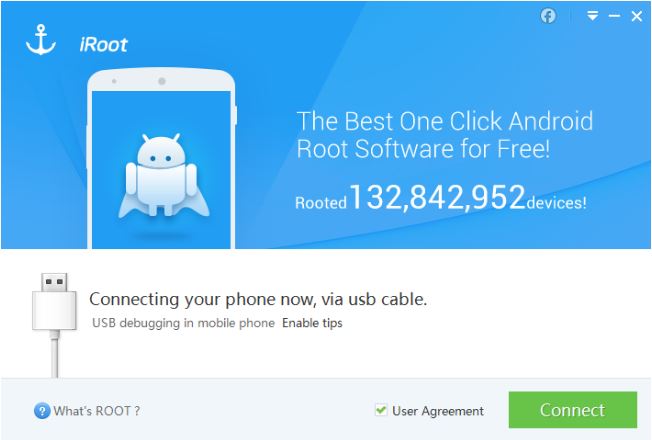 iRoot is another powerful root software created by Chinese people. Just one click, and you can be the master of your rooted Android phone or tablet. It is the next advanced version of old RootGenius app . New iRoot supports more Android Devices.
Pros
Support thousands of Android phones.
High success rate of rooting Android.
Free of charge.
Cons
Not offer unroot function for the time being.
If You have any Questions Please Ask Below 🙂