Google App
The Google app keeps you in the know about the things you care about. Find quick answers, explore your interests, and get a feed of updates on what matters to you. The more you use the Google app, the better it gets.
Search and browse:
– Nearby stores and restaurants
– Live sports scores and schedules
– Movies times, casts, and reviews
– Videos and images
– News, stock information, and more
– Anything you'd find on the web
Personalized feed and notifications*:
– Start your morning with weather and news
– Get updates on sports, movies, and events
– Track the latest stock market changes
– Get info and updates about your interests
Unstable connection?
– Google will automatically optimize results to improve loading on bad connections
– If Google cannot complete a search, you'll get a notification with the search results once you regain connection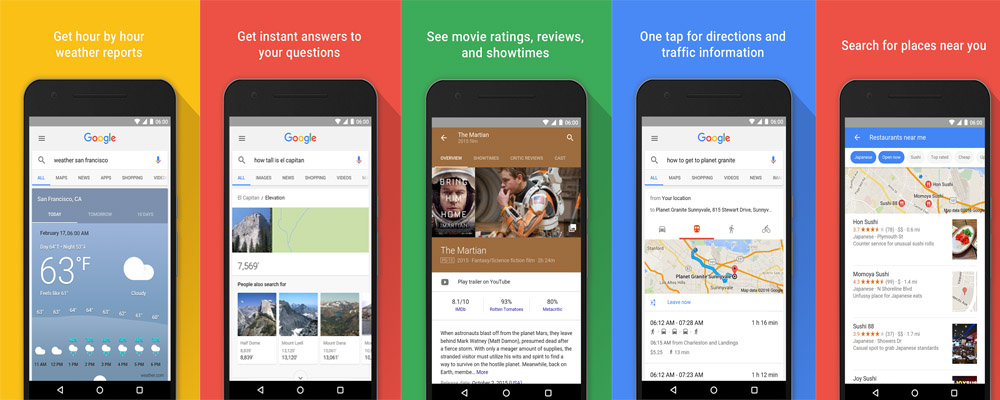 Google Chrome
Google Chrome is a fast, easy to use, and secure web browser. Designed for Android, Chrome brings you personalized news articles, quick links to your favorite sites, downloads, and Google Search and Google Translate built-in. Download now to enjoy the same Chrome web browser experience you love across all your devices.
Browse fast and type less. Choose from personalized search results that instantly appear as you type and quickly browse previously visited web pages. Fill in forms quickly with Autofill.
Incognito Browsing. Use Incognito mode to browse the internet without saving your history. Browse privately across all your devices.
Sync Chrome Across Devices. When you sign into Chrome, your bookmarks, passwords, and settings will be automatically synced across all your devices. You can seamlessly access all your information from your phone, tablet, or laptop.
All your favorite content, one tap away. Chrome is not just fast for Google Search, but designed so you are one tap away from all your favorite content. You can tap on your favorite news sites or social media directly from the new tab page. Chrome also has the "Touch to Search"- feature on any webpage. You can tap on any word or phrase to start a Google search while still in the page you are enjoying.
Protect your phone with Google Safe Browsing. Chrome has Google Safe Browsing built-in. It keeps your phone safe by showing warnings to you when you attempt to navigate to dangerous sites or download dangerous files.
Fast downloads and view web pages and videos offline Chrome has a dedicated download button, so you can easily download videos, pictures, and entire webpages with just one tap. Chrome also has downloads home right inside Chrome, where you can access all the content you downloaded, even when you are offline.
Google Voice Search. Chrome gives you an actual web browser you can talk to. Use your voice to find answers on-the-go without typing and go hands free. You can browse and navigate quicker using your voice anywhere, anytime.
Google Translate built-in: Quickly translate entire web pages. Chrome has Google Translate built in to help you to translate entire web to your own language with one tap.
Save Mobile Data. Turn on Chrome's Data Saver to browse and navigate the web while using less data. Save up to 60% of data as Chrome compresses text, images, videos and websites without lowering the quality.
Smart personalized recommendations. Chrome creates an experience that is tailored to your interests. On the new tab page, you will find articles that Chrome selected based on your previous browsing history.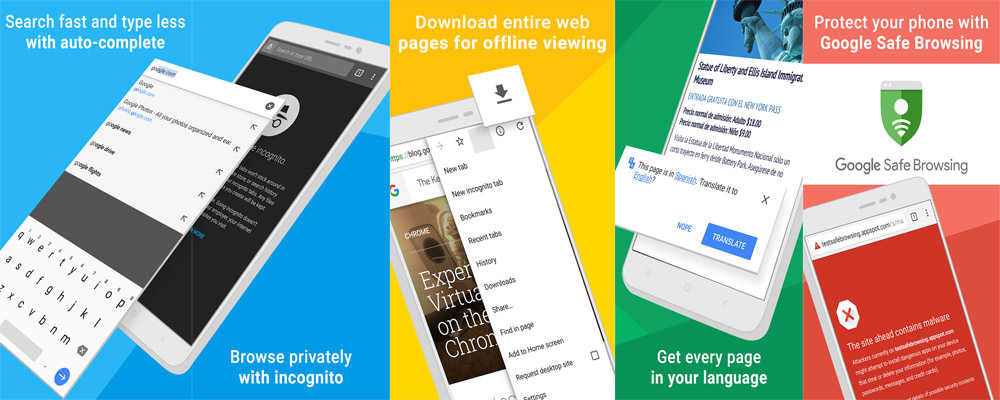 Google Drive
Google Drive is a safe place for all your files and puts them within reach from any smartphone, tablet, or computer. Files in Drive – like your videos, photos, and documents – are backed up safely so you can't lose them. Once there, you can easily invite others to view, edit, or leave comments on any of your files or folders.
With Drive, you can:
– Safely store your files and access them from anywhere.
– Search for files by name and content.
– Easily share files and folders with others.
– Quickly view your content.
– Set access levels for who can view, comment, or edit.
– Quickly access recent files.
– See file details and activity.
– Enable viewing of files offline.
– Use your device camera to scan in paper documents.
– Access pictures and videos from Google Photos.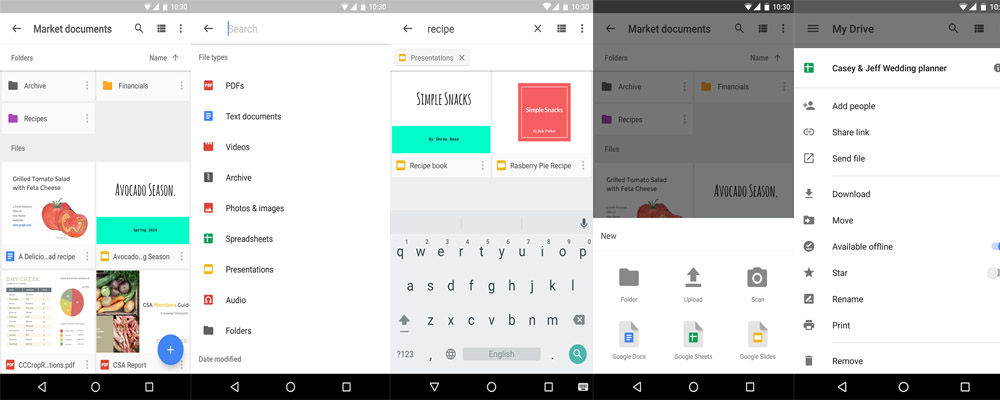 Google Photos
Google Photos is a new photo gallery from Google, made for the way you take photos today. Your photos and videos will be automatically backed up and organized, so you can find and share them faster – and never run out of space on your phone.
Finally, a photos app that's as smart as you.
FREE UNLIMITED STORAGE
Back up unlimited photos and videos for free in High Quality. Access them from any device and photos.google.com – your photos are safe, secure, and private to you.
FREE UP SPACE
Never worry about running out of space on your phone again. Photos that are safely backed up can be removed from your device's storage in just a tap.
VISUAL SEARCH
Your photos are now searchable by the people, places and things in them – no tagging required.
BRING PHOTOS TO LIFE
Get automatically created movies, collages, animations, panoramas, and more from your photos. Or easily create them yourself.
ADVANCED EDITING
Use the intuitive and powerful editing tools to enhance your photos and bring them to life. Adjust lighting, contrast, color, and vignette, or pick from 14 innovative photo filters to make your pictures look great in one tap.
SMART AUTOMATIC ALBUMS
Tell better stories, without the work. Automatically get a new album with just your best shots after an event or trip, then invite others to add their photos.
SEND PHOTOS IN SECONDS
Don't waste data texting and emailing photos. Instantly share photos with any contact, email, or phone number, right from the app.
REDISCOVER
It's easier than ever to relive your memories. Get collages of photos you took a year ago on this day – perfect for #tbt.
CAST
View your photos and videos on your TV with Chromecast support.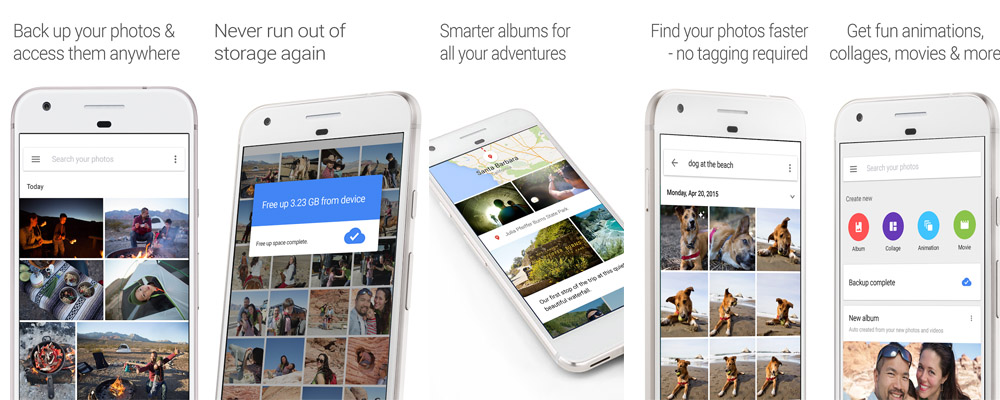 Google Duo
Duo is a one-to-one video calling app for everyone – designed to be simple, reliable and fun so you never miss a moment.
Features:
Simple interface
Pick a loved one and jump right in, with a simple interface that brings video to the forefront.
Knock Knock
See the caller before you pick up with Duo's live preview feature.
High quality video
Experience faster and more reliable video calls whether you're on Wi-Fi or on-the-go.
Cross-platform
Video call all your friends across Android and iOS with just one simple app.
Audio Calls
Make audio-only calls to your friends when you can't have a video call.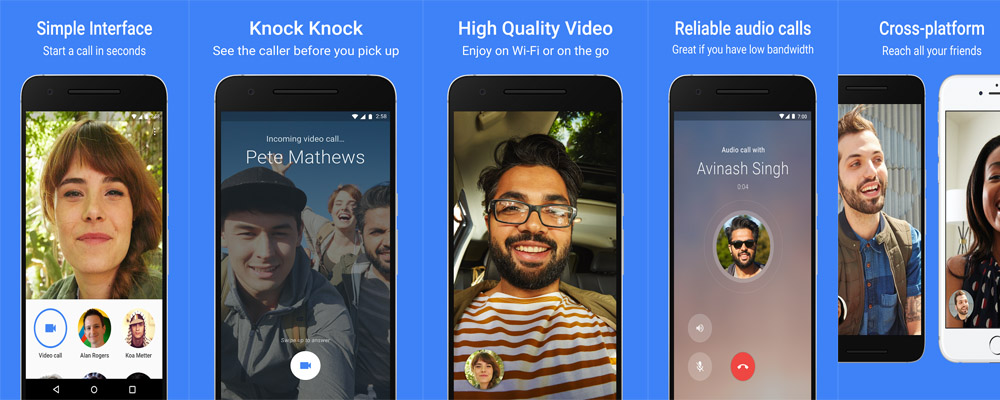 Google Play Music
Google Play Music provides free, ad-supported radio for what you're doing, how you're feeling, or what you want to hear. Instantly start radio stations based on songs, artists, or albums, or browse by genre, mood, activity, decade, and more. Bring your own music collection with you by uploading 50,000 of your own songs; then listen to them across Android, iOS, and the web, for free.
Subscribe to get on-demand access to millions of songs and download anything to listen even when you're not connected – or sign up for the family plan on Android to provide access for up to six family members for one low price. Plus, subscriptions come with membership to YouTube Red, so you can enjoy YouTube ad-free, in the background, and offline.
GBoard -Google keyboard
Gboard has everything you love about Google Keyboard—speed and reliability, Glide Typing, voice typing, and more—plus Google Search built in. No more app switching; just search and share, right from your keyboard.
Gboard also has emoji search to help you find emoji faster, plus GIF search, and multilingual typing to let you switch languages on the fly.
Glide Typing — Type faster by sliding your finger from letter to letter
Voice typing — Easily dictate text on the go
Search and share anything from Google
Emoji Search — Find that emoji, faster
GIFs
Multilingual typing
Google Translate
Over 120 languages supported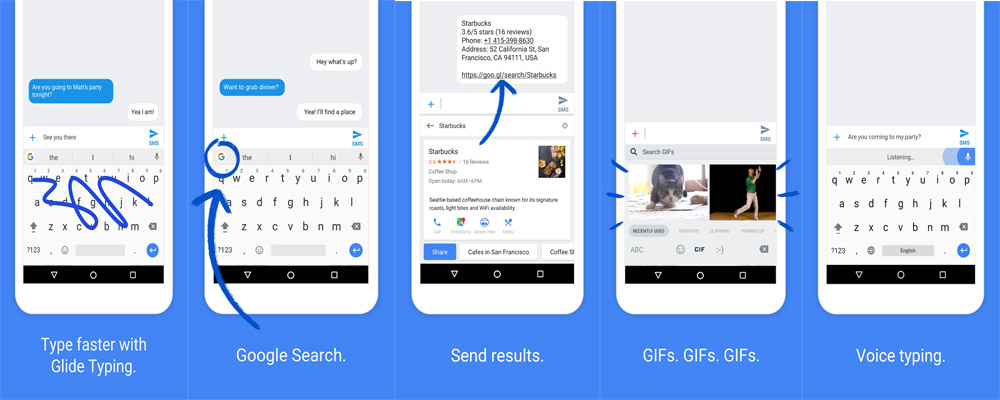 Google Text-to-speech
Google Text-to-speech powers applications to read the text on your screen aloud. For example, it can be used by:
• Google Play Books to 'Read Aloud' your favourite book
• Google Translate to speak translations aloud so that you can hear the pronunciation of a word
• TalkBack and accessibility applications for spoken feedback across your device
• … and many other applications in Play Store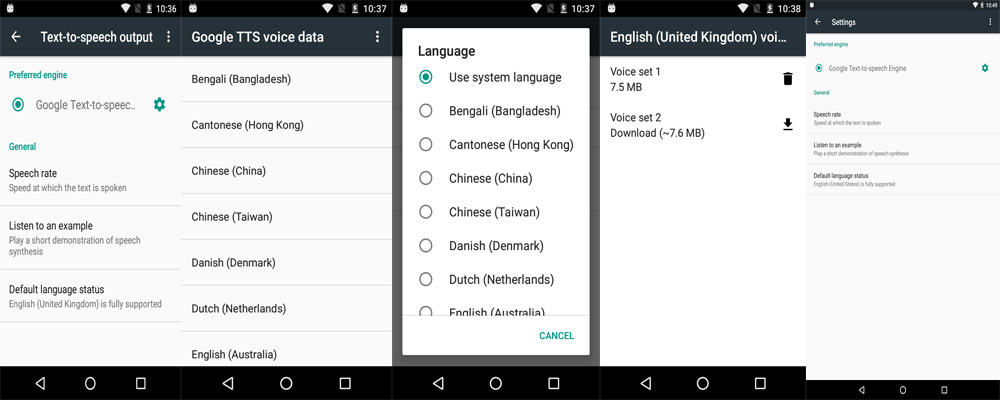 Google Translate
Translate between 103 languages by typing
• Tap to Translate: Copy text in any app and your translation pops up
• Offline: Translate 52 languages when you have no Internet
• Instant camera translation: Use your camera to translate text instantly in 30 languages
• Camera Mode: Take pictures of text for higher-quality translations in 37 languages
• Conversation Mode: Two-way instant speech translation in 32 languages
• Handwriting: Draw characters instead of using the keyboard in 93 languages
• Phrasebook: Star and save translations for future reference in any language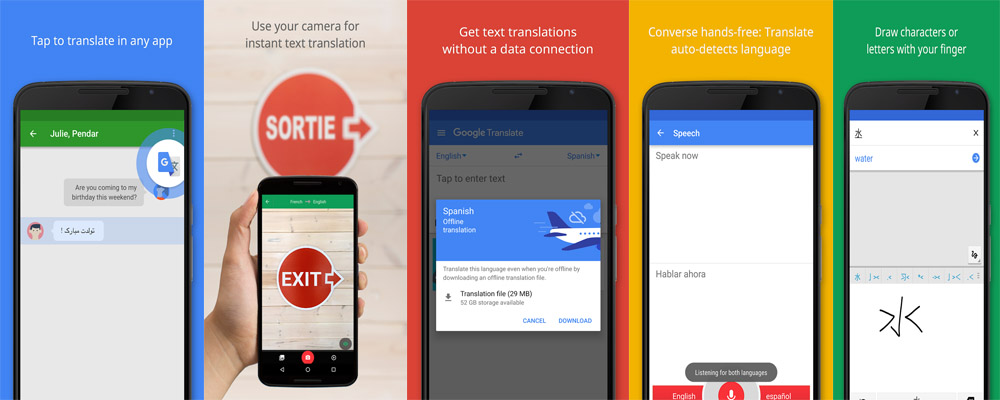 Keep
Quickly capture what's on your mind and get a reminder later at the right place or time. Speak a voice memo on the go and have it automatically transcribed. Grab a photo of a poster, receipt or document and easily organize or find it later in search. Google Keep makes it easy to capture a thought or list for yourself, and share it with friends and family.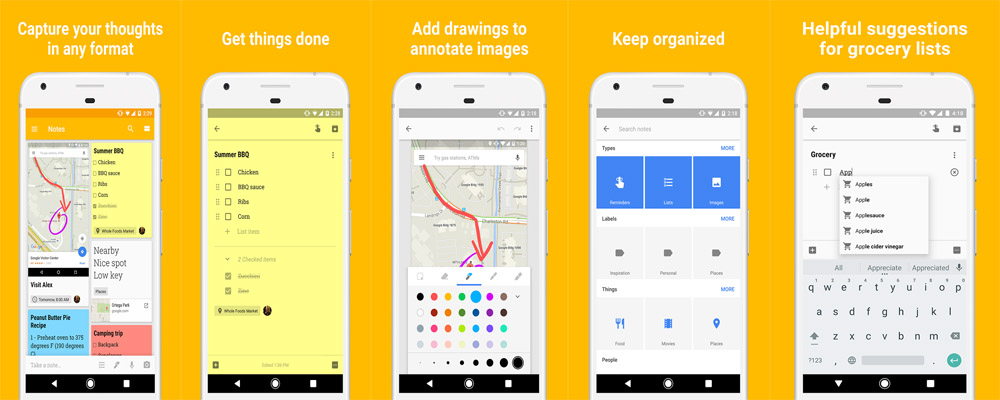 Gmail
Gmail is an easy to use email app that saves you time and keeps your messages safe. Get your messages instantly via push notifications, read and respond online & offline, and find any message quickly.
With the Gmail app you get:
• An organized inbox – Social and promotional messages are sorted into categories so you can read messages from friends and family first.
• Less spam – Gmail blocks spam before it hits your inbox to keep your account safe and clutter free.
• 15GB of free storage – You won't need to delete messages to save space.
• Multiple account support – Use both Gmail and non-Gmail addresses (Outlook.com, Yahoo Mail, or any other IMAP/POP email) right from the app.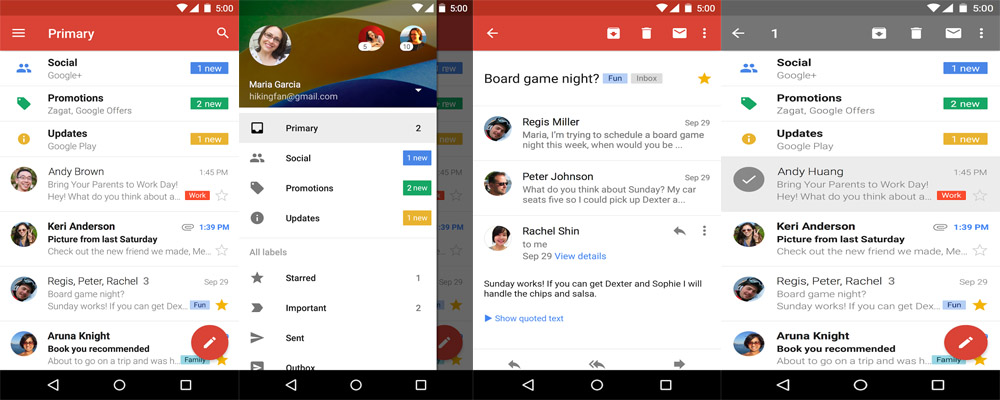 Google Docs, Sheets, Slides
Create, edit and collaborate with others on documents,sheets,slides from your Android phone or tablet with the Google Docs app.
Snapseed
Snapseed is a complete and professional photo editor developed by Google.It comes with many features that was not provided by any other apps in playstore.